NEWS
The Art of Fine Furniture returns with an opening on Saturday June 17th, 2017
(6/14/2017)
The Winona County Historical Society's summer exhibit that has become a widely popular annual attraction returns for its fifth season. The Art of Fine Furniture will open on June 17 with a reception from 1-3 p.m. at the History Center. Many of the artists will be there to talk about their work and inspiration … which is the theme for this year's exhibition, related programs and workshops. Nineteen new pieces will be on exhibit, handcrafted using time-honored traditions of fine woodworking by 14 regional artists.
Free refreshments and a cash bar will be part of the celebration. The exhibit and additional programs are free and the exhibit will be up through August 10. Other programs include a workshop called "Inspired by Wood" and an artist discussion panel paired with The River Arts Alliance Arts Schmooze event. Log onto theartoffinefurniture.com to learn more and register. The skate board class is full.
This activity is made possible by the voters of Minnesota through a grant from the Southeastern Minnesota Arts Council, thanks to a legislative appropriation from the arts and cultural heritage fund, with sponsorship from Winona National Bank.
Find more and plan your visit at www.winonahistory.org or call 507-454-2723.
.
Over the past eighteen months I have been fortunate to have two pieces appear in Fine Wood Working Magazine. The most recent is in the current issue from December, 2014.
Fine Wood Working Magazine
readers gallery
issue 243, Dec. 2014
Fine Wood Working Magazine
readers gallery
issue No.234, Aug. 2013
Friday September 26th, 2014.
The Minnesota Technology Education and Engineering Association MTEEA announced today that Andover High Schools Technology Education Department has been selected as this year'srecipient of the Program Excellence Award.
Members of the department include Mike Hecker, Frank Kratochvill and Dale Johnson. The three echoed the statement "We are very pleased to have Andover High School recognized. We have been fortunate in the fact that we have been able to build this department together, beginning in 2002 when the school opened. The staff and administration at Andover have been very supportive and worked with us allowing us to build our vision. We thank our students, who have exceeded our expectations challenging us with their interest and enthusiasm. "
The Program Excellence Award is one of the highest honors given to Technology and Engineering Education classroom teachers at the middle or high school levels. The award is presented at the MTEEA annual meeting in recognition of outstanding contributions to the profession and provides public recognition locally as well as internationally. The award is used to recognize an outstanding Technology Education Program at the high school level in Minnesota. These schools will represent the Minnesota Technology and Engineering Educators Association (MTEEA) at the Program Excellence Awards program at the annual International Technology and Engineering Educators Association (ITEEA) conference.
June, 2014
The Art of Fine Furniture
Please join us this summer in Winona for The Art of Fine Furniture show. There will be a great group of Midwest furniture makers showing their work. This is a rare opportunity to see so much exceptional work in one place. The show runs from June 21st thru September 11th 2014.
Find out more at:
http://www.theartoffinefurniture.com/
https://www.facebook.com/TheArtOfFineFurniture
The show has opened, very interesting and impressive collection, great venue and atmosphere.

Full Circle
Winner of the Peer Award 2018 Northern Woods Exhibition
The 2018 Northern Woods Exhibition kicks off April 26th at Eden Prairie Center
Thin Blue Line Flag
I recently worked with The Anoka County Sheriffs Department and Andover high school students to create a Thin Blue Line Flag using fifty retired sheriff's department badges inlaid into the star field.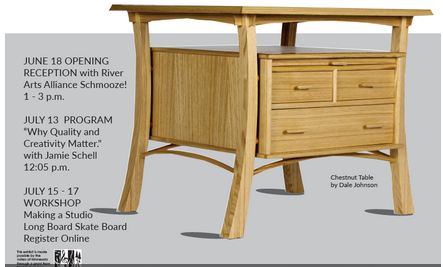 http://www.theartoffinefurniture.com/
Winona County Historical Society
160 Johnson Street
Winona, MN 55987
507-454-2723
June 18 - August 5, 2016
I will be have my Chestnut table at The Art Of Fine Furniture this summer stop by and see the inspirational work by some great builders.
The Art of Fine furniture is an exhibit of studio furniture. The pieces in the exhibit have been created by recognized professional and hobbyist furniture makers. These works have been selected for their quality craftsmanship and artful execution of their unique designs, as well as the recognition of the artists ongoing commitment to the art form. Many of the works in the exhibit have hidden mysteries just waiting to be discovered, while others beckon one to stand back and contemplate the balance of form and function. The Art of Fine Furniture also offers workshops and discussions that are open to the public. Please visit the events page for more details. It is our hope that you enjoy, learn, and support creativity in all aspects of your life!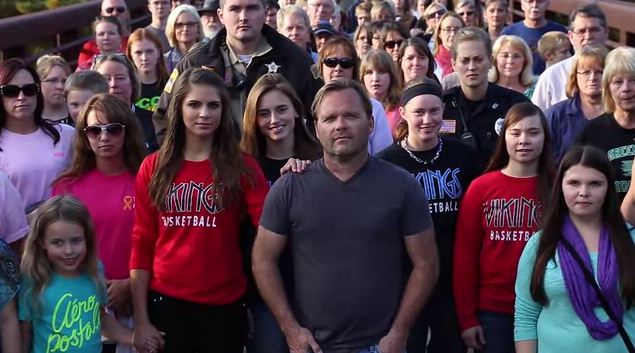 The What's Left Project
This is a project that I have been invited to participate in beginning next September, 2015. I am designing a "Hope Chest" that will store items telling the story of the casualties of suicide. Please go to John Bauers website http://whatsleftmn.com/ and view his video describing the project.
Tuesday, October 21, 2014
Grand Rapids Herald-Review
"What's Left: Lives Touched by Suicide" is a multimedia art exhibit that is currently being developed to create a proactive dialogue on suicide to break the stigma that surrounds it. The topic of suicide is often viewed as taboo, and family members left behind after a loved one's suicide can feel stigmatized and unable to talk openly about their experience and their grief. This project aims to provide a space for participating artists and the broader community to reflect on the impact of suicide and explore the use of artistic expression in the processes of grieving and healing.
Thirty different artists have been invited to contribute their artistic expression of the grief and suffering experienced by people left behind as a result of suicide. In addition, John Bauer is conducting a series of interviews with people who have lost a loved one to suicide and individuals who have attempted suicide. The recordings will be incorporated into an audio installation that will be part of the exhibition. The exhibit will debut at MacRostie Art Center in the fall of 2015 and will feature a variety of art forms including photography, painting, poetry, sculpture, and interactive forms of art. Bauer is working with community members through local government, education, and the private sector to encourage classrooms, youth groups, case managers, and others to use this project as an opportunity to have important conversations about suicide and mental health.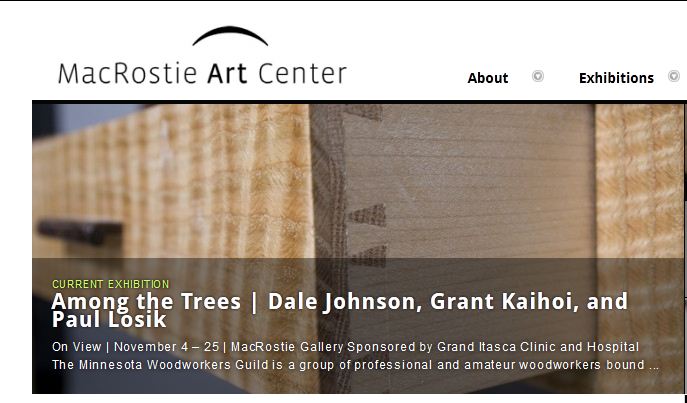 LOGGING AND SAWING SEMINAR
In conjunction with the Art of Fine Furniture Show I attended the Logging and Sawing seminar Sept. 6th 2014 hosted at the Jordan Farm south of Winona at Dollar Creek, MN. Arguably one of the most beautiful regions of Minnesota, the weather was perfect as well. 9/15/14
The Cherry tree you see here was selected by the owner for cutting, the top had been wind damaged and it was time for it to move on to its next life as furniture.
After a discussion about the tree and some explanation of technique the tree was taken down with a mix of sadness and anticipation of what treasures it might yield.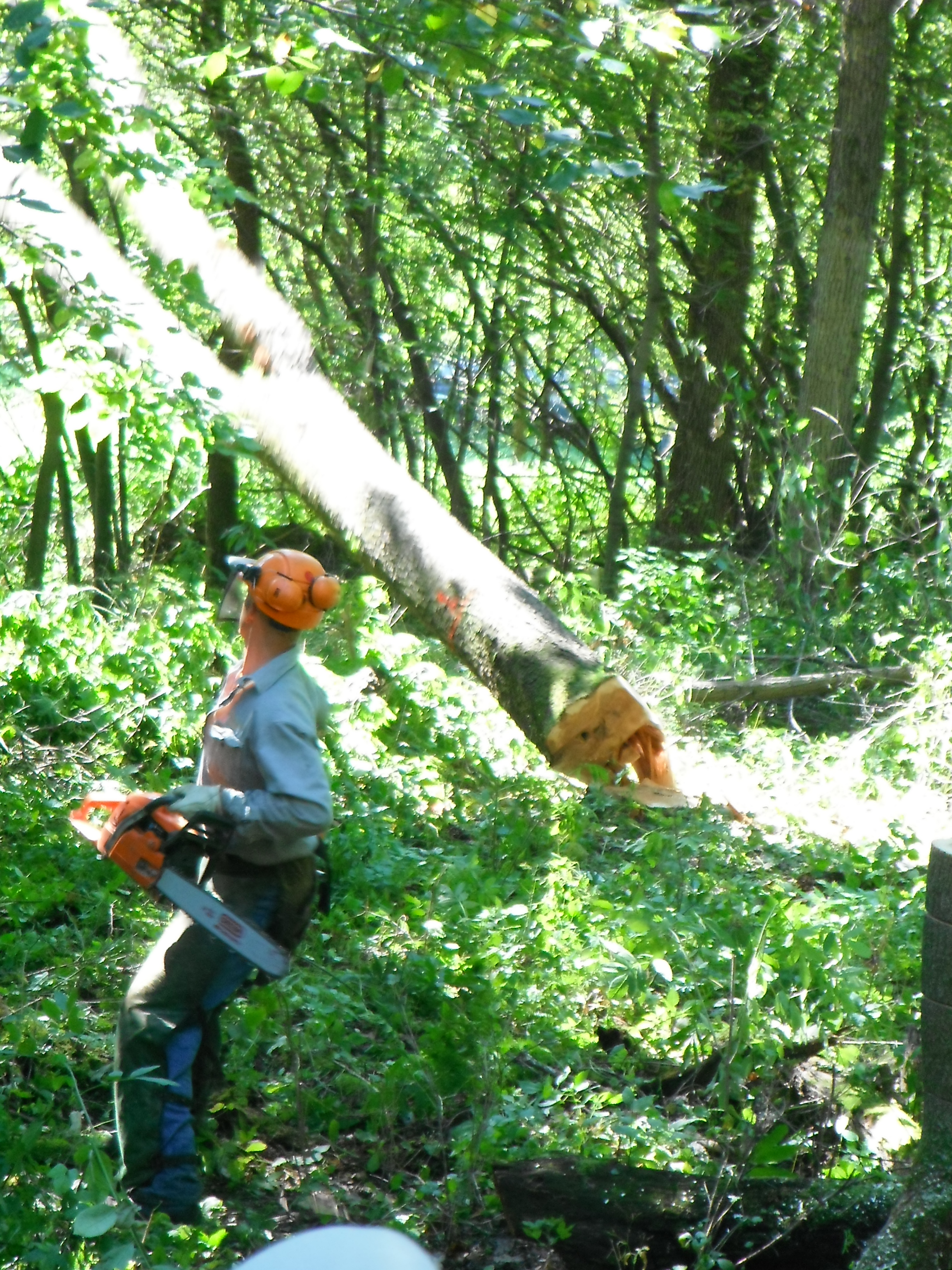 Jamie Schell the event and show organizer looks over the log.
Another discussion on how the log should be divided it yielded a 12'6" butt log and five more 8'6" secondary logs.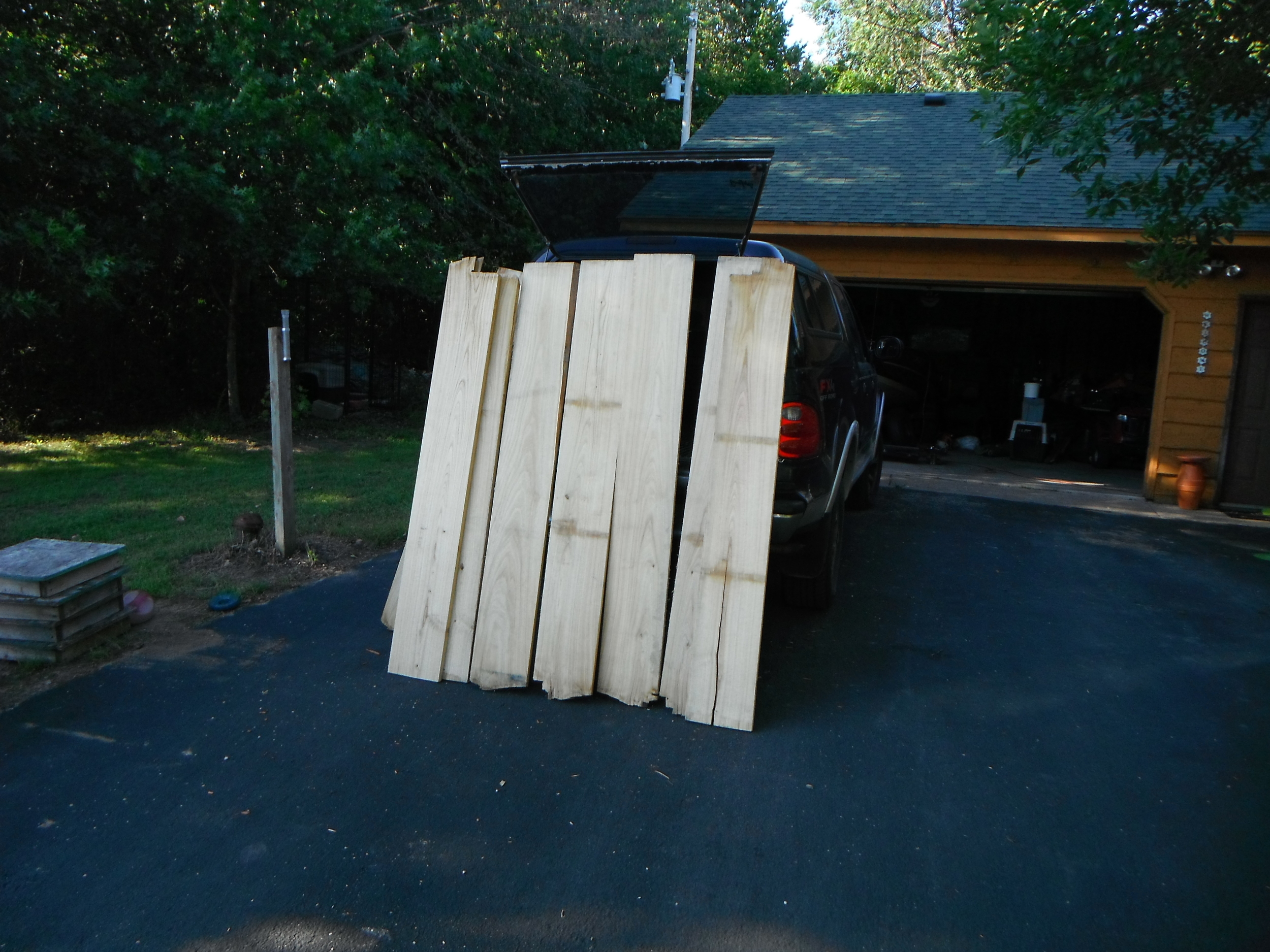 A Rare Find
As a side note I met Dave Klinski, local sawyer at the seminar. Dave brought with him a trailer load of his lumber for sale which included a flitch matched log of American Chestnut. A species that has all but disappeared from the American landscape. The wood detective in me went on high alert and I made the purchase on the spot. Here is Washington Post article explaining the Chestnuts plight http://www.washingtonpost.com/wp-dyn/content/article/2006/05/19/AR2006051901548.html. . The boards show a nice tight sequence all in the eleven inch range for width and about seventy eight inches in length. Dave explained that this tree had been damaged and was available for harvest. After a nap in my shop for 24 months or so you can look for this wood in a upcoming piece. 9/15/14
Over the bridge to Michigan
Took a trip to Traverse City MI. and Rare Earth Hardwoods this summer we really like to see the fruit orchards and found some interesting lumber. A matched set of Makore boards, figured Walnut, Hickory and Cherry pieces. It's a hit or miss kind of trip these places have what you want but nobody wants to take the time to dig it out, a common problem I run into continuously. They just don't get it.
My Uncle, Jim Johnson models a a nice load of material from Rare Earth Hardwoods. Swiss Pear, Figured Cherry, Rosewood and Oak.